NaNoWriMo 2017: Day 1 or Plans Change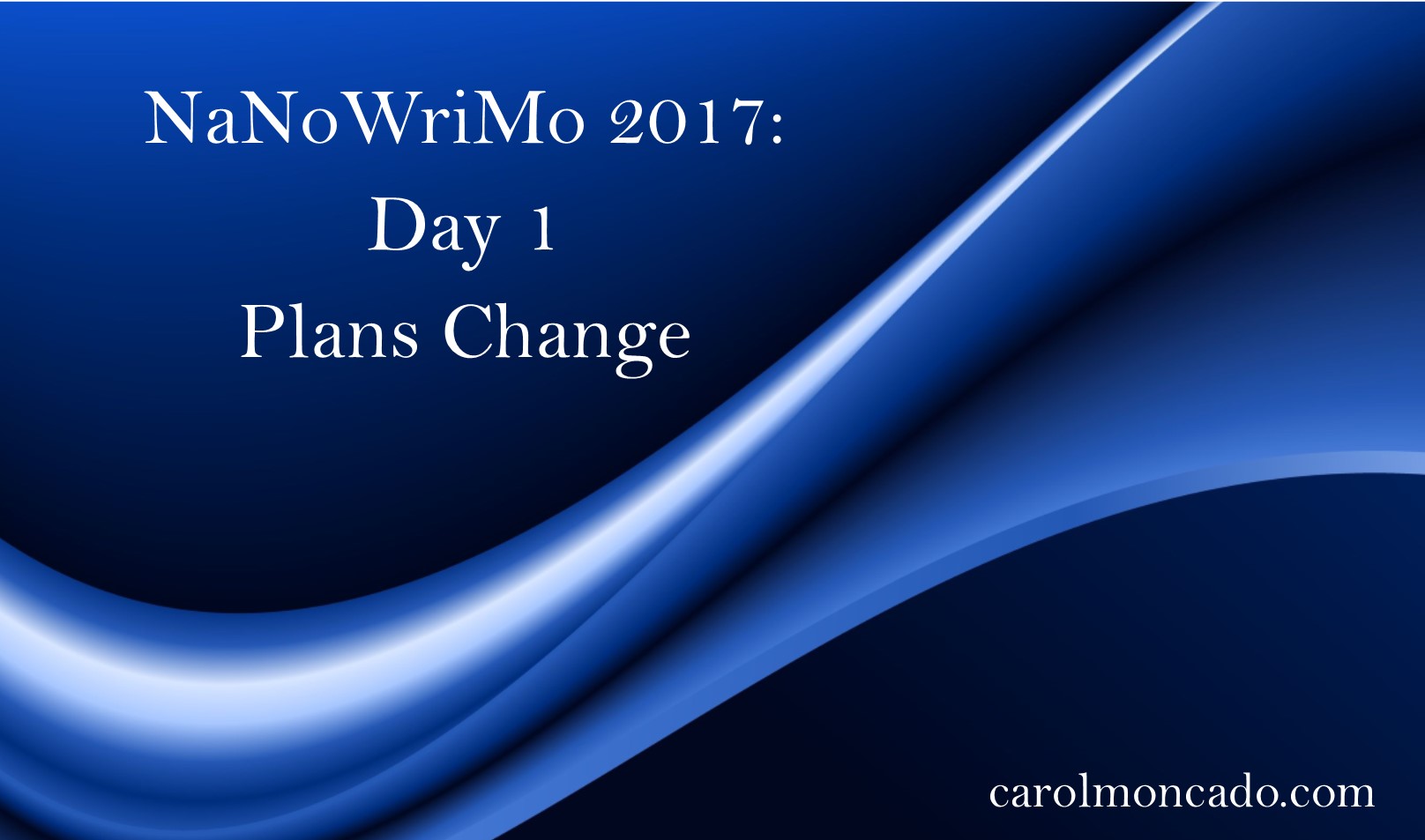 Sometimes plans change.
Mine did this summer when Grace to Stand just wasn't working :(. I'm hoping to have it (or a different Grace book) out next summer still.
I've been working on Book 2 in CROWNS & COURTSHIPS, but had to put it on the backburner when a boxed set due date cropped up. That set, Out of the Blue Bouquet, releases November 7. I'm super excited about the story – A Kaerasti for Clari (I can't make it do the ae as the same letter thing here…) – which will actually be labeled book 2 in the CROWNS & COURTSHIPS series, because it comes between Heart of a Prince and Prince Kensington and Anabelle's story (and introduces Anabelle and gives a peek into a little bit of palace life in Eyjania).
So that makes Kensington/Anabelle book 3. And Princess Esther book 4.
And King Benjamin and Katrin (her name is supposed to have the little slanty line over the i) book 5.
But…
Some of you may remember when I talked about my cousins last year. They were displaced from Baton Rouge when the flooding hit. Allen has spent the last 14 months in and out of hospitals and other facilities. He's spent less time at home than he has in one of them.
Because Allen has spina bifida. When the floods hit, he spent hours sitting in that nasty water and what was a manageable sore became infected.
And he's been fighting that infection ever since.
During his most recent hospitalization, they were told his prognosis is very poor. But in the meantime, he's living his life.
He's visiting with friends. Going on helicopter rides. (Click the links for the two news stories done on him recently.)
And inspiring a character.
King Benjamin's book will be dedicated to my cousin. One of the characters is inspired by the Wheelchair Preacher.
And because I want to get a copy of it to Allen as soon as I can, that's the project I'm going to be working on right now. These characters have been after me to tell their story since at least spring and my trip to Toronto in May.
They'll still be book 5, but I'm going to write as fast as my fingers can fly to get it finished and send Allen the first (likely unedited) copy.
Then it's back to Kensington and Anabelle.
Sometimes, you know something is right even though it doesn't make logical sense. WHY would I write book 5 before book 3 is finished?
There's no logical reason for it. My sales numbers, while not bad, could sure use a new release soon.
But I feel a complete peace about this. This is the right order to write these.
If you have a few extra dollars, Allen and Glenda could use your support. (For the record, Allen is my second cousin. Glenda is my first cousin once removed.)
Facebook keeps trying to get me to donate my birthday to a cause, but "Allen's Life List" isn't one of the options it gives me. If you'd like to contribute, please click here or in one of the links in the news stories.
Thank you for understand. And for being there when Kensington and Anabelle get their story. And Esther. And Benjamin and Katrin.
I appreciate you more than you know.
(It's late and I'm tempted to wax poetic for a bit, but I think I'll stop there ;). Tomorrow, it's nose to the grindstone… :D)