Gifts of Love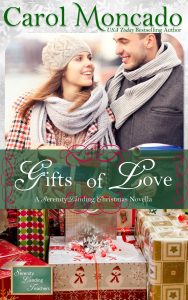 Available on Amazon
(Semi-sequel to Good Enough for a Princess.)
Samantha Dean has two major regrets in life-and both of them are dates with Vince Roberts. But somehow, since they started teaching at Serenity Landing Elementary II, he's managed to worm his way into her life and make himself indispensable.
Vince Roberts has loved Samantha since their first date, though he hasn't done the best job of showing it. Spending time together is one reason he volunteered both of them to plan the staff Christmas party.
They work together to take care of one of their own, dealing with the recent death of her husband in a house fire. As they plan the party, Samantha tries to keep Vince from finding his way into her heart. Will she admit the feelings that have been growing for so many years or walk away from Gifts of Love?
(Previously available as part of the Snowflakes and Mistletoe collection.)