Protecting the Prince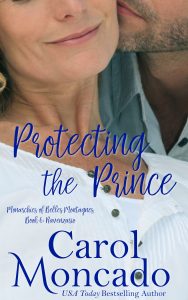 Available on Amazon
**Previously available free to newsletter subscribers**
This is a novella of about 35,000 words.
Tony Browning has worked for the Ravenzarian royal family since he was fifteen. The day after he took over as head of security, the king's sabotaged vehicle went over a guard rail, killing all inside. Or so everyone has always believed. Tony has discovered the prince, now grown, and his nanny may have survived. He uses decades old data to try and track them down – and make up for the tragedy that has haunted him all these years.
Michaela Engel has spent eighteen years keeping Prince Nicklaus's identity secret – and keeping him safe from the threats that haunt their every step. It's nearly time to tell her charge who he really is and return him to their homeland.
Before they can leave, Michaela and Nicklaus find themselves on the run once again. This time they find a new friend, one with a background in security, who's willing to help them stay safe. Michaela finds herself falling for Anthony, but can she trust him with her heart when they're done Protecting the Prince?