Beyond Titles & Tiaras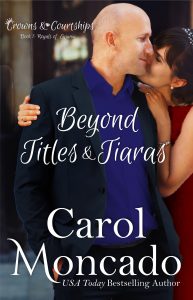 Available on Amazon
Queen Mothers were supposed to be boring, staid, and old.
Her family's head of security knew she was anything but.
Crowns & Courtships 7
Royals of Eyjania
Eliana Quatremaine, widow of King Alfred II and mother of King Benjamin I, had the boring part down, at least publicly.
Widowed in her early-30s, she believed nearly fifteen years was long enough to mourn her beloved husband.
It was time to move on.
But, even if Queen Mothers could fall in love again, the head of security was off-limits.
He'd told her so.
When he walked away after an almost kiss.
Thor Sørenson had long known he could easily fall for his former boss's widow – who was also his current boss's mother and a member of the royal family he was sworn to protect.
When she moves on in a decidedly public way, he knows he needs to put his own feelings aside and watch her be happy without him.
But an unexpected chance at romance shows them there could be more.
With her ten children, including a monarch, and his three – with a total of six still living at home – combining households isn't an easy thing to contemplate.
A trip to the States, television documentaries, and a security scare have them both wonder if they can have a future – Beyond Titles & Tiaras.