Falling for Mr. Write
Available on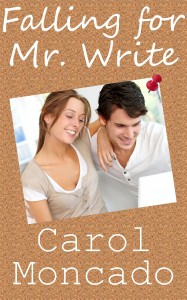 Amazon
Widow Bethany Sheer was born with a weak heart. Between her propensity for blacking out when emotions run high and her analytical side, she couldn't handle marrying for love. She married because it made sense. Now in need of a nanny for her twin three-year-old daughters, the only person who shows up for an interview is the one man who ever made her heart race.
Gavin Parmigianno isn't proud of his past, but he knows he's not the same man he used to be. With two kids to take care of on his own, and a career in shambles, he has to find a way to make it work. A nanny job with room and board is an answer to prayer. It will give him the stability he needs to fight for custody of his son and time to jump-start a new career in website and book cover design. And maybe he'll find time to write that book he's always dreamed of.
But Gavin finds himself falling for his uptight new boss. He wants to see Bethany let her hair down and really feel for the first time. Threats from his ex-wife, her new husband, and Bethany's estranged sister, as well as reticence from Bethany herself, could doom their relationship before it even starts. Bethany doesn't like the emotions Gavin stirs up in her. They're just too messy and, with her history of blacking out, it's too dangerous.
When Bethany realizes her heart has overruled her head, she can only hope Gavin will catch her, and her heart, when she's done Falling for Mr. Write.