Discovering Home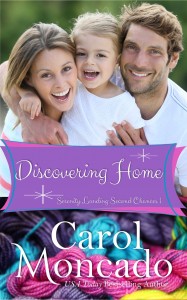 Available on Amazon
Jonathan William Langley-Cranston IV has come to terms with the idea that he just might remain single and childless for the rest of his life. It's not his first choice, but it seems to be what God has for him, at least for now. Until a chance encounter with a familiar face changes his outlook.
MacKenzie Davidson has been a single mom since before her daughter was born. Just once, she'd love not to worry about losing her job or what will happen if her fledgling yarn dyeing business doesn't take off. A stormy night and flooded road bring the straws that finally break the back of her independent streak.
Her knight-in-shining-SUV comes in the form of American royalty. She's read enough of the tabloids to know that's how Jonathan's family is seen and knows she can't begin to measure up.
But when he puts everything aside to help her, her daughter, and her now-floundering business, she begins to wonder. Jonathan quickly comes to believe he's found everything he's looking for. Will they find their way to each other or will they be ripped apart before discovering home?