Good Enough for a Princess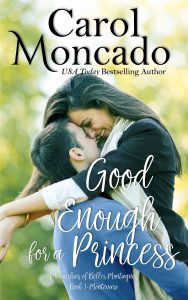 Available on Amazon
Crown Princess Adeline of Montevaro has her life planned out for her: get her Master's in international relations, marry nobility, produce an heir, inherit the throne. There's no room for romance with the single father she meets when their cars collide on an icy winter night. Parliament – and her father – would never approve.
Charlie Brewer grew up without roots. The son of an archaeologist father and anthropologist mother, he either traveled along or lived with his aunt and uncle in the States. He's determined to give his daughter the stability he never had. He also wants to give her a mom, but the beautiful European he's falling for refuses to move to Serenity Landing, Missouri permanently.
He won't move. She can't stay. What will happen when they try to forget each other by dating someone "acceptable"? They find themselves drawn together by one of the girls in the after school program Addie supports – a girl who happens to be Charlie's daughter. How will Charlie, and his daughter, feel when they find out the woman they've both fallen for is a… princess?
A trip halfway around the world shows Charlie and Addie how much they long to be together – and how impossible it is. Is there any way he can prove he is Good Enough for a Princess?