Heart of a Prince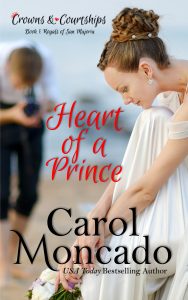 Crowns & Courtships
Book 1: Royals of San Majoria
Canadian Jordan Haines is on vacation in the Caribbean. After the summer he's had, a couple months of fun in the sun is just what the doctor ordered. What he didn't count on was meeting a beautiful woman on a private beach – or falling hard.
Crown Princess Astrid of San Majoria seems to lead a charmed life. Just like everyone, there's tragedy in her past, but she lives in a palace, has aides to do everything – and paparazzi hounding her private moments. Her sanctuary on her family's beach is broken one day when a tired windsurfer takes refuge in her cove – and works his way into her heart.
But it's just a summer fling, isn't it?
After all, Jordan will be returning to Canada before long, won't he?
When pictures of the two of them, and what looks like an engagement ring, appear in the tabloids, they have to deal with fallout – and the beginnings of a real relationship. Secrets kept become hearts broken as they try to discover if Jordan really has the heart of a prince.