Glimpsing Hope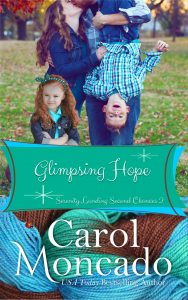 Available on Amazon
Christopher Bayfield enjoys his single life. Unencumbered by relationships, he works and travels whenever he wants. He can even drop everything to do something he's been dreaming of for a while – return to acting in a Happily Ever After TV Network movie. But before he can leave a knock on the door changes his life.
Julia Quisenberry never planned to have one child out of wedlock, much less be pregnant with number two, but this was what her life had become. Unemployed and barely making ends meet with her knitting patterns and teaching, she's almost desperate enough to take a handout from her best friend.
A phone call from Christopher changes Julia's plans. He offers her a job and a lifeline, in more ways than one. So when the paparazzi threaten all he holds dear, she'll do anything to help him out – even marry him. Can they overcome the obstacles in their path to find a glimpse of hope for their own happily ever after?
Author's note: The first chapter of Glimpsing Hope picks up at the end of Winning the Queen's Heart and before the events of Protecting the Prince. The second chapter begins in the universe's "present day" – after the events of Discovering Home.