The Spare and the Heir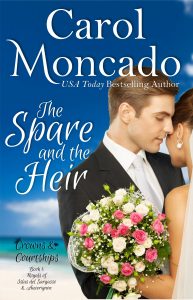 Available on Amazon
Crowns & Courtships
Book 6: Royals of Islas del Sargasso & Auverignon
Crown Princess Esmerelda of Islas del Sargasso wants nothing to do with Prince Gabriel of Auverignon and his well-deserved reputation as a playboy prince.
Unfortunately, she's been secretly engaged to him since she was three.
Her mother, Queen Carlotta, has decided it's time for the two of them to get married – and Gabriel is all too keen to make it happen. But she saw what this kind of arrangement did to her own mother, and Esme wants nothing to do with it.
For his part, Gabriel has been in love with Esme since he was a teenager and deeply regrets his years of wild oat sowing – even if some of them did serve a greater purpose.
One he can't tell Esme about, not yet.
He knows, far better than she does, that their fledgling relationship is going to be tested to the hilt as life's body blows rain down. All he can do is be steadfast in his commitment to her, to their marriage, and to helping her become the queen he knows she can be.
He's always been the spare.
She was born the heir.
Together, they can form a new dynasty where even arranged marriages can turn into something beautiful.