Her Undercover Prince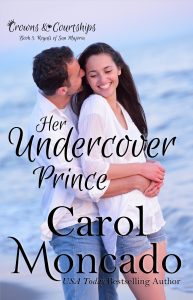 Available on Amazon
Crowns & Courthships
Book 5: Royals of San Majoria
Princess Jacqueline Grace of San Majoria is weary. Weary of cameras. Weary of her every move as a "single mom" being criticized. Weary of people who know nothing about her except what they see in a 30 second sound bite knowing how to run her life better than she does.
Weary of being alone.
In walks Dave Smith. With a gorgeous accent and magnetic personality, his presence both calms her and stirs up emotions she has little experience with. Jacqueline Grace isn't sure what to think when her father sends Dave on a trip as her undercover bodyguard.
Shared experiences – including each raising a daughter they're not related to – bring them together, but secrets could tear them apart. Secrets about her foster daughter's parentage. Secrets among those tasked with protecting them from outside threats. Secrets about what really happened between them when a passport was lost overseas.
Secrets about who Dave really is.
When her family and the Quatremaines get together to finally publicly celebrate her sister's secret marriage, threats and secrets merge. Is Dave the secret to countering the threats? Is he more than her undercover bodyguard? Could he be Her Undercover Prince?