Along Came a Prince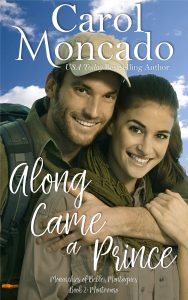 Available on Amazon
Richard Antonio David Nicklaus is Montevaro's spare – and he likes it that way. He prefers traipsing through mountains and rafting down rivers to board rooms and state dinners. After one more trip through the Ozark Mountains, he'll have to head home and help his sister prepare for her wedding and coronation, taking over more official duties because of their father's ailing health.
Trail guide Ellie Brewer is sick of rich, pretty boys, but she's assigned one on her last trip before heading to Montevaro to spend time with her aunt, uncle, and cousin, Charlie, before he marries a princess. She admits Rick does okay – until he fails to follow instructions and she ends up injured miles from where they're supposed to be.
After Rick takes her on a once-in-a-lifetime trip on their way to Europe, Ellie spends her recovery in Montevaro. When Rick takes off for weeks at a time, and is seen dancing with other women, Ellie wonders if she really meant anything to him. Ellie finds herself drawn to another man, but knows he can't compare to the one she misses. Rick wants to be with Ellie but official duties have him flying around the world and concern for his distant cousin – Queen Christiana of Ravenzario – preoccupies him when he's home. Somehow, he'll have to convince Ellie not to regret the day Along Came a Prince.