What I've Read Wednesday, Volume 5
Current Facebook Status: feels all medicine head-y but hasn't taken any medicine. Wonders if it's allergies or the beginnings of a sinus infection :p.
Currently Playing the Background: getting ready to start tonight's Survivor
Have I mentioned that I love Candace Calvert?  I am deeply saddened that her next book won't be out for a while!  Three in a short time spoiled me!  The first two were already out when I started reading them and the third was nearly out.  You should check out her Facebook page.  She even tells you when she notices other favorite authors have free e-downloads ;).
By the way, currently Kindle has Brenda Warner's First Things First is free.  So is Terri Blackstock's Intervention and Tracie Peterson's Dawn's Prelude.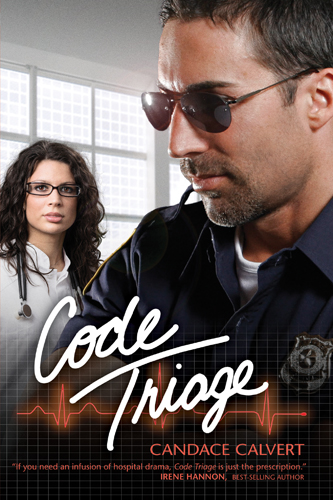 From the Back Cover:
Dr. Leigh Stathos likes her ER shifts fast, furious, and adrenaline-infused-"Treat 'em and street 'em"-with no emotional complications. Life's taught her a soul-rending lesson: nothing lasts forever, including marriage. And the clock is ticking toward the end of hers. Then an unwelcome confrontation with "the other woman" begins a whole new set of lessons.
San Francisco police officer Nick Stathos never gives up, whether protecting his patrol neighborhood, holding fast to faith-or trying to save his marriage. Seven days is all he has to reach Leigh's heart. But when a desperate act of violence slams Golden Gate Mercy Hospital into lockdown, it starts a chain of events that will change lives forever.
What I Liked:
Leigh and Nick Stathos – this book didn't have a 'will they, won't they' component to it for me.  I already knew whether Leigh and Nick would end up trying to fix their marriage.  Or I made an educated guess.  They have their faults.  Nick slept with another woman [this isn't a spoiler; we learned it in Disaster Status].  He's trying to make things right but he doesn't completely cut contact with TOW.  He does have to have some contact with her in the course of work, but I think he probably should have been a bit clearer with her about her about the status of their relationship [or non-relationship] – I think a lot of people would have the same problem in that situation.  When the chips are down, though, I want Nick on my side.
Leigh wasn't perfect either.  She had a hard time forgiving [though I don't blame her for that].  She escaped to spend time with her horse more than she probably should have.
Riley.  She's from Texas.  Something bad happened to her [I'm not entirely clear on what it was except it involved a flight of stairs so either a. I wasn't paying close enough attention or b. we're not supposed to really know what happened because Candace's next series is set in Texas and Riley is going to go back to star in her own book – I'm going with b ;)]
Kristi and her kids – She's just a mom trying to make a life for her kids.  She's made some bad choices that she's trying to make better.  She made some questionable choices while trying to make things better.  But overall she has the best interests of her kids at heart.
Cappy.  The hospital security guard who did his best to protect others.
Caroline – Leigh's sister.  She's got hard times behind her and is coming out stronger.  I'd like to see her move to Texas ;).
Antoinette and Harry.  So sweet.  'Forever and Ever.'
The wrap-up – at the end we got to see all three couples from the series together in one spot.  As much as I liked it though, I'd like more =D.  Me and my literary voyeurism!
There is a parrot ;).
What I Didn't Like:
Sam – She's the other woman intent on making Nick fall for her and her daughter.  She wants Nick to end his marriage to be with her.  I don't think we were supposed to like her ;).
Kurt – Kristi's ex.  But we're not supposed to like him.  Unlike the 'villain' in Disaster Status, Kurt really is a bad guy.
This isn't really a 'dislike' per se, but something I would have liked to see.  One of the symbols of their relationship is Leigh and Nick's lack of dining room table.  As a reader, we know why Nick wants one and why Leigh doesn't – what things happened to them that made them feel the way they did.  I would have liked to see them talk about it and come to some sort of compromise.
No Elmer Fudd or Jonah!  [Okay – Jonah made a cameo at the end but not nearly enough!]
Overall:
It's not surprising that this is already on my bookshelf.  I thoroughly enjoyed Candace's first two books [Reviews for them can be found under the Review tab].  I ordered this one since the library hadn't.  They have now and I actually did get a copy of it from them last week.  I'll be returning it for someone else to enjoy [didn't realize I hadn't canceled my request].  I am, however, saddened that it will be a while before there is another Calvert book out L.  I will have it ordered from Amazon before it's released.
Edit: I'm squeeeeeeeeing because Julie Lessman posted on the Seekerville blog about hooks at the end of chapters [you know the ones that make you start the next chapter and then it's 3am and you've finished the book].  She used one of Candace's chapters from Critical Care. She asked people to post the ends of chapters so I posted the end of Chapter 3 and she loved it =D.  She also loved 'literary voyeur' ;).