What I've Read Wednesday, Vol. 6 [I Think]
Current Facebook Status: glares at the 'to be continued' from last night's NCIS and wishes she'd waited a week to watch it like she had to last week.
Currently Playing in the Background: tonight's Criminal Minds
Current NaNoWriMo Status: 13003, won't mention how far that is behind but it's progress!
I have begun A Passion Most Pure!!!! I have been looking forward to this for a while – Julie Lessman is way cool!  I've emailed with her a bit and comment chatted on Seekerville a number of times and really, really hope I get to meet her in St. Loo next year.  As in like, time to chat a bit and not just shake hands and take a picture.  I am loving APMP so far!  I may have to be 'sick' on Thanksgiving and hide in my room with a flashlight under the covers because at the rate I'm going I'll still be working on it :p.  I got the next two of Julie's for my birthday and I have finally finished Erynn Mangum's books so next week should be 'I'm thankful for Erynn Mangum' week ;).
But, for today, we'll stick with Karen Kingsbury!
From the Back Cover: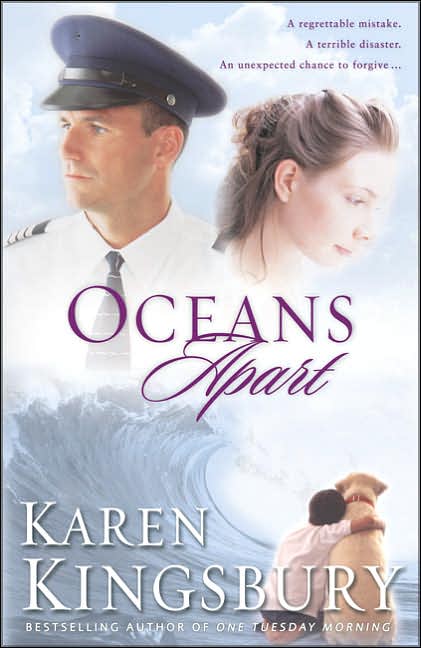 A forgotten secret.
A shocking discovery.
A sacrifice of love that will bring Connor Evans to his knees.
Airline Captain Connor Evans has nearly forgotten that stormy weekend in Hawaii ten years ago when he broke the greatest promise of all. Now Connor has the perfect life with his wife, Michele, and their two daughters, and the secret of that long-ago time is his alone.
But an ocean away, a flight attendant is raising her young son by herself when the plane she's working on crashes into the Pacific. Her will is very clear about one thing–before the child can be given over to the state, his father must be contacted.
The news rocks Captain Evans' life, and in the process he is presented with a choice: Refuse the child and never hear from him again, or take him for two weeks and decide whether to claim the boy as his own. Now, the family is on the brink of destruction. Can Michele and their daughters ever forgive Connor for what went wrong all those years ago? Or will the presence of one lonely child destroy everything?
What I Liked:
Max.  He's a sweet boy who is stuck between a rock and a hard place – and just wants to be loved.
Michele.  By the end.
Connor.  While I certainly can't condone what he did or the keeping of the secret, he did finally come clean and did the best he could under the circumstances.
Connor and Michele's daughters.  They were more accepting of Max than Michele was, though they didn't truly understand why he was there.
Ramey.  She's a faithful friend to both Max and Kiahna – and Michele and Connor throughout.
Connor's father.  When push comes to shove, he is the bigger man.  Sure, he was probably right all those years earlier, but he finally takes the first step.
What I Didn't Like:
Michele's reaction to Max.  While I understand it, I didn't like it.  Particularly the subterfuge.
Overall:
I liked this much better than I did One Tuesday Morning and will give Kingsbury more chances based on this than I would have based on that one.  This is a story of redemption and healing and second chances.  If this is more of an example of Kingsbury's writing than One Tuesday Morning is, I'll be reading more.