What I've Read Wednesday: Mangum Edition, Part 3
Setting this one up early too so no updated statuses etc :).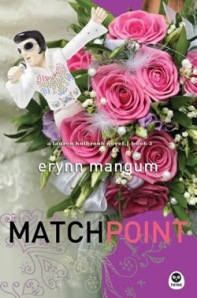 From the Back Cover:
Lauren Holbrook, matchmaker extraordinaire, takes credit for four successful couples now. With her dad happily married and life settling down around her, Lauren feels quite content. That is, until the tables are turned and she's on the receiving end of the matchmaking!
Lauren and her boyfriend, Ryan, devise a plan to make it look as if they've broken up so people will get off their backs about marriage. No problem, right? That's of course until Lauren realizes she's in love.
What I Liked:
Lauren is still Lauren, but now her friends have turned on her and Ryan and are playing matchmaker.  Lauren and Ryan are still sort of play dating – not that either of them is dating anyone else…
Love her family and friends, including her new stepmom who is wonderful.
Love that Lauren's plotting and scheming backfires so that she gets what she wants all along – she just didn't realize it was right there under her nose.
What I Didn't Like:
This is a niggle specific to me, I'd bet.  Or pretty close.  I never got the 'foot popping' sense from Lauren about Ryan – even after the proposal.  They'd been dating or sort of dating for years by that point and never even a little tingle?  No real hand holding, no kisses, no anything.  That struck me as a bit odd but didn't ruin my overall enjoyment of the series.
Overall:
More fun, rom com, chick lit stuff J.  Love it.  8 out of 10 stars.