What I've Read Wednesday, Julie Lessman Edition, Vol. 2
Current Facebook Status: has now found a better table with a power outlet. Note to self: bring needle nose pliers next time to pull out broken prong. Still love me some Panera though!
Currently Playing in the Background: Pandora while sitting at Panera having just finished more edits
[If you're looking for the teen resources, scroll down :)]
JULIENESS!!!!
Do I really need to say more than that?  Julie is poster of the day over on Seekerville.  And it's A Passion Redeemed day here on my blog.  For all like, seven of you who might read this ;).  Ah, one day someone will come back and read it!  Right?
I do A. Dore. Julie.  Honestly, I do.  Matt's idea of getting her autograph tattooed on my tush was a bit much though ;).  I don't adore her quite that much!  I don't adore anyone that much!
So…  A Passion Redeemed…  You may want to grab rain gear, because there's gushingness ahead…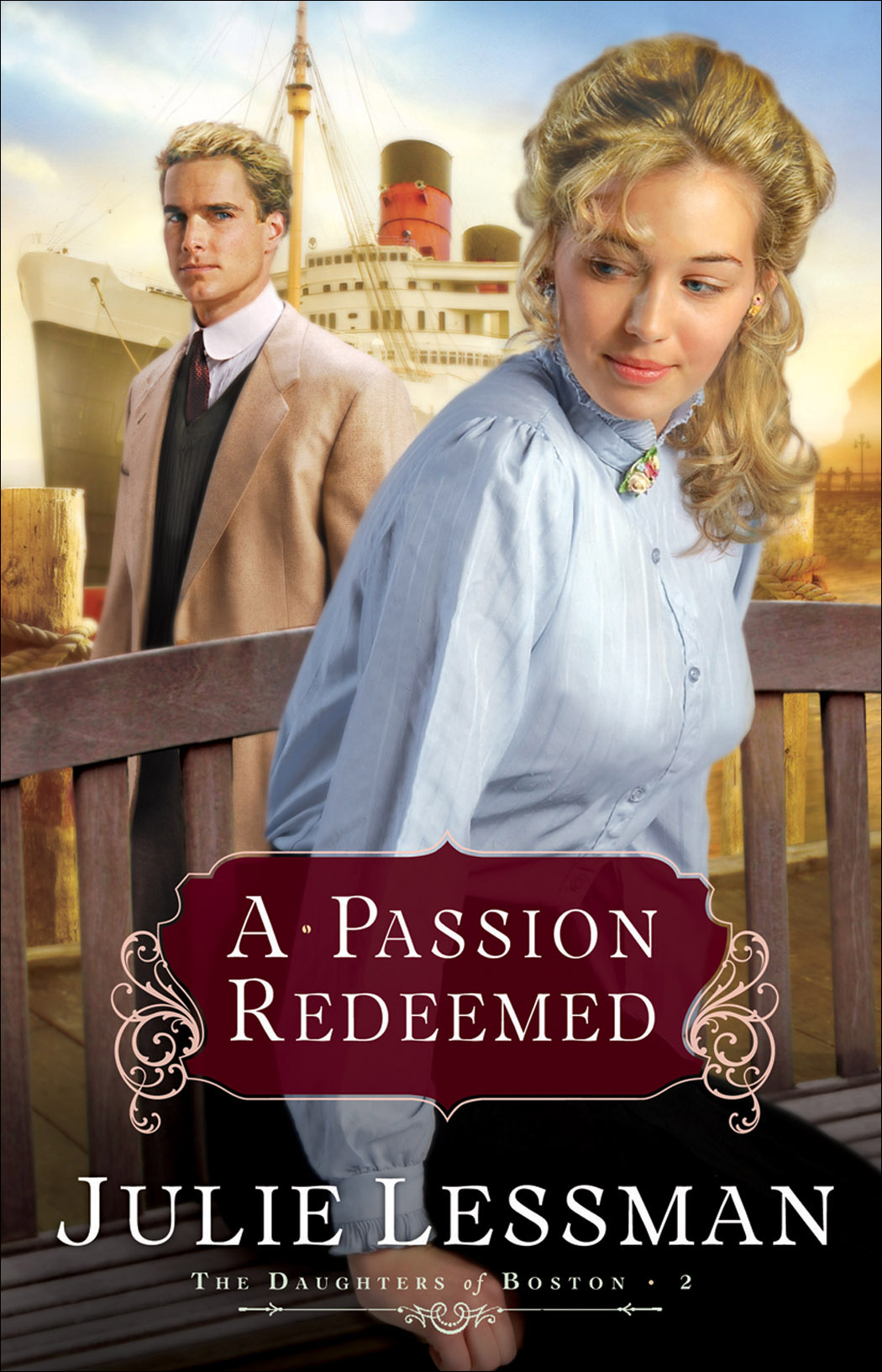 From the back cover:
No man can resist her charms. Or so she thought. Charity O'Connor is a woman who gets what she wants. Her stunning beauty and flirtatious ways have always succeeded with men. Until Mitch Dennehy, that is. Brilliant and dangerously handsome, Mitch is a no-nonsense newspaperman who wants nothing to do with her. Charity burned him once, destroying his engagement to the only woman he ever truly loved. He won't play with matches again. But Charity has a plan to turn up the heat, hoping to ignite the heart of the man she loves. And she always gets what she wants–one way or another.
Or does she? Will her best-laid schemes win his love? Or will her seductive ways drive him away forever?
Book 2 in the Daughters of Boston series, A Passion Redeemed will captivate your heart and stir your soul with a story of faith and redemption rising from the ashes of temptation, desire, and shame.
First… Faith and Collin… STILL NOT MARRIED!  After everything she put us [and THEM!] through, Patrick made them wait a YEAR to get married.  Girl, I'm surprised Collin didn't come after you!  Or Faith!  [In book time, it's pretty quick, but in their real time, not so much.]
But this is Charity and Mitch's story.  Yes, Mitch, Faith ex-fiance.  Yes, Charity, who tried to break them up.
This time, Mitch is the one with the faith, not Faith.  But the faith that Faith helped him find.  Oy, that's a lot of faiths.
Anyway, Mitch is the one with the Faith.  Charity is still scheming and conniving.  Shocking.  Eventually, she comes around and begins to truly believe.  But is it too little, too late?  Can she and Mitch actually make it work?  And what about Kathleen?  Mitch's ex-girlfriend?  Will she throw a wrench in the works?  Or Rigan, who Charity is using for her own ends?  Or is she the one being used?
Once again, it's so hard to find words to convey what I love, love, love about this book – and Julie's books and characters in general – without spoilers!!!!   Trust me on this one, just read it ;).
That said…
I often have conversations in my head [or at least thoughts in my head – hey!  Julie!  No remarks!  I heard you thinking it!] of what I'd like to say to the author if I had the chance.  Questions I'd like to ask.  I was very fortunate that Julie took time out of her insane schedule to respond to the emails I was compelled to write.  Like when they were on the ship.  And I stopped reading [I was actually curled in my chair reading for an extended period of time rather than stealing a chapter here and there].  I pulled my laptop over and fired off an email detailing what I thought she might do.  Rather than reading on – I had to send the email – full of CAPS and !!! and !?!?!?! and glaring and whining and wide-eyed exhuberation [can you tell?].
Of course, I was wrong.  Well, sort of.  And I should probably admit that Julie's version was better.  But I won't.  Not publicly anyway.  Er, wait…
My point, of course, is that Julie is awesome.  Now as a bit of fair warning, her books could be considered PG-13 for passion for God and within couples, so definitely not something you want to just hand to your preteen [or your teen without conversation to go along with it].  So if you, or the one you're buying for, is more of a G-rated person, you might want to think again, but she doesn't cross any lines or 'show' what shouldn't be 'shown'.
That said, I have two full sets for Christmas presents ;).
9.5 out of 10 stars [but only because her solution to the ship thing was better than mine ;)]