What I've Read – Special Holiday Weekend Edition, Part 1
So we went to Tulsa yesterday for a quick trip to see my dad, stepmom, stepsister and her family.   I had found Megan DiMaria's website thanks to a link on someone else's blog [how bad is it I've forgotten who!?  AH!] – that was Thursday.  I reserved her two books through the library but they weren't in on Friday, but both happened to be at the library that's not too far out of Matt's way home so he picked them up for me – what a sweetie!
I read Searching for Spice in the car on the way and on the way back.  I wrote some notes out today after I'd read Out of Her Hands and I think that review may be a bit more comprehensive since I wrote the notes literally minutes after I finished that one, but I think this is pretty good :).
I am a bit hesitant as I post this.  I did enjoy Searching for Spice and I think part of my lack of… overwhelming enthusiasm? is my own deal and not the book's which doesn't help.  I expected Chick Lit and either my definition of Chick Lit is off or I had the wrong impression.  My understanding of Chick Lit is mostly funny [like a sit-com; they can have serious moments, but they're more likely to make you laugh out loud].  Searching certainly had its amusing moments, but it wasn't what I would term Chick Lit based on my understanding.  I don't know where I got the impression of the genre – maybe from the library's website? – but most likely I had the wrong impression.
So that colored my perception of the book as I read it.  I also hesitate slightly because I know that the author, Megan DiMaria, has recently had a family tragedy and while I have mostly good things to say, I hate to say anything negative knowing what she's going through.
I'm still working on exactly what format these reviews will take so bear with me :).
All that said… Here's my review of Searching for Spice.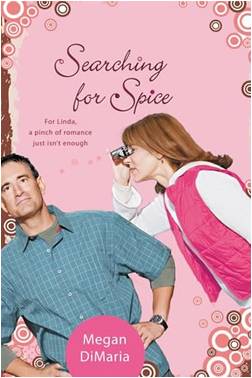 Summary: Linda's marriage is feeling a bit stale and she's looking for spice – with her husband!  She comes up with a number of plans.  She plots everything out as best she can, but then life happens.  Linda and Jerry have two kids – 15 year old Emma and Nick who is several years older.  Add in a dog who seems slightly neurotic, best friends and a job at a top notch photography studio and you've got real life.
Things I liked:
Linda.  Her plan for spicing up her life by seeking a more 'bodice ripper' type lifestyle without seeking it outside her marriage.  I love that!!!  I wish more Christians were like that!  Men and women!  Imagine if we all had affairs – with our SPOUSES!  How cool would that be?
Life happens.  There's medical scares, teenagers doing things teenagers do – but with potentially dire consequences, and romance with the love of her life.  Though my children are much younger, I can relate to what they're going through.
Real characters… mostly.  Jerry's reactions with the medical issue.  He's a scientist and seeks out information.  That's what a scientist does.  Even if it's not what Linda needs, it's what he knows best.  In his own way, he's there for her as best he can be.
Real problems.  Anyone who's worked in customer service knows how challenging it can be.  Some of Linda's customers are real pieces of work.  But when push comes to shove, her strongest ally comes from a very unexpected place.  Real health issues.  Wrong assumptions – we've all made them.
Nitpicks:
Jerry seems almost too perfect in his Christian walk.  Sure his attempts at romance sometimes fall short, but he's trying.  I can relate to that.  But he's always right on matters of importance.  Always.  That bugs me.  It's quite possible he struggles 'off screen' but we don't see it.
Deb.  I love Deb.  I do.  I think she has her head in the sand.  A real problem surfaces after which it seems that Deb pretends the call to Linda never happened.  It's very possible it will all come to a head in a later book and in fact after reading book 2, there's a very real opening for that to happen not too long after book 2 ends.
The problem with one of the teens…  The resolution to the problem happens as the book ends.  I would like to see what else, if anything, Jerry and Linda do as far as punishment, etc. with the kiddo involved but that would have been outside the time frame for this book.  I don't remember it being addressed at all in the second book.
I felt like the history teacher thing was left hanging a bit.  Again, it could have been addressed in Out of Her Hands, but it wasn't – or I missed it; I'll check again.  Maybe those two should be part of the nitpicks for OoHH, but they're going here ;).
Overall:
Overall, I enjoyed it.  I'll read it again.  It's going on my Amazon wish list.  I know another book is in the works by Megan DiMaria and I hope it's the third in this series, though I'll be one of the first in line for whatever work she has in progress.  The nitpicks are fairly minor overall and things I can live with.  4 out of 5 stars.
My prayers continue to be with the DiMaria family as they deal with their personal tragedy.
Look for Part 2: Out of Her Hands tomorrow.