What I Read Wednesday on Thursday, Vol. 1
Let's hope there's no Volume 2 of this edition =D.
I had hoped to finish rereading Disaster Status last night but didn't and it's unlikely I'll be able to today so instead of waiting on it, I'll pull another review out of the archives and post it.  I plan on Disaster Status next week :).  Of course, I have about 16 books still sitting on the table next to me to either be reviewed or be read [mostly reviewed] and some editing to do, but I'm sure I can finish it again – especially as I'm giving a test on Tuesday ;).
In honor of last weekend's anniversary of 9/11, I'm going to post the review I wrote a couple weeks ago of Karen Kingsbury's One Tuesday Morning.
Review:
I'm fascinated by all things 9/11 [more or less] so when I saw Karen Kingsbury had a 9/11 series, I had to check it out [literally – from the library; the budget doesn't let me buy near as many books as I'd like so I have to read them first – surely someone out there can relate, right?].  Her first series of books had been recommended to me by a friend, but there's only one copy of the first book in the series in all of our county library system, so while I was waiting, I moved on to other stuff.  One Tuesday Morning is one of the other things I read [as was everything else reviewed on the blog to this point plus all those others waiting to be reviewed – two and a half months later I'm still waiting…]
Front Cover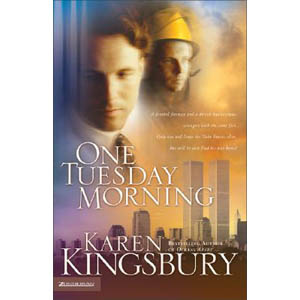 A devoted fireman and a driven businessman, strangers with the same face. On that fateful Tuesday, one will leave the Twin Towers alive–but will he ever find his way home?
From the Back Cover
I'm a firefighter, God, so I know I've been in some tough places before. But this . . . this not knowing the people I love . . . this is the hardest thing I can imagine.
The last thing Jake Bryan knew was the roar of the World Trade Center collapsing on top of him and his fellow firefighters. The man in the hospital bed remembers nothing. Not rushing with his teammates up the stairway of the south tower to help trapped victims. Not being blasted from the building. And not the woman sitting by his bedside who says she is his wife.
Jamie Bryan will do anything to help her beloved husband regain his memory, and with it their storybook family life with their small daughter, Sierra. But that means helping Jake rediscover the one thing Jamie has never shared with him: his deep faith in God.
Jake's fondest prayer for his wife is about to have an impact beyond anything he could possibly have conceived. One Tuesday Morning is a love story like none you have ever read: tender, poignant, commemorating the tragedy and heroism of September 11 and portraying the far-reaching power of God's faithfulness and a good man's love.
What I Liked:
The same 9/11 stuff I think most of us would.  The descriptions as realistic as possible from someone who wasn't there [and using a made-up group of firefighters as her characters].
I liked Jamie and Jake Bryan.  They were real.  Flawed.  He loved his wife more than anything but his God.  He loved his daughter the same way.  He loved life.  He loved his job.  Jamie knew and accepted that.  She could deal with that.
The family and friends of the Bryans.  Also real.  Also flawed.  Also hurting after the towers came down.
The same is true of Laura and Eric.  Real.  Flawed.  At the end of their marital rope.
Clay – Eric's brother.  A strong Christian.  Falling for his sister-in-law after 9/11 [and maybe even before].  An all around good guy – there when you need him.
What I didn't like:
The plot seemed… clichéd.  Very predictable and very… trite?  Very uninspiring [in the plot sense, not the 'inspirational' part of 'inspirational fiction' sense].  The book itself was well-written and entertaining enough that I didn't put it down but the overall plot was a bit too… sort of… blah or something.
That's about it – but that's enough.
Overall:
Would I read it again?  Yeah, probably.  Would I buy it?  Not at full price.  Maybe if I saw it used for a really good deal and needed to fill up an order on Amazon or something and didn't have any other options in the budget, but it's unlikely.  Am I totally put off on Karen Kingsbury?  Not by this.  I've already read the other two and will review them in the future and am still waiting on the first in the Baxter series.  However, I was really not that impressed based on this book alone.
6 of 10 stars.