Review: Love's Fortune by Laura Frantz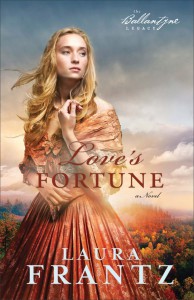 Sheltered since birth at her Kentucky home, Rowena Ballantyne has heard only whispered rumors of her grandfather Silas's vast fortune and grand manor in Pennsylvania. When her father receives a rare letter summoning him to New Hope, Rowena makes the journey with him and quickly finds herself in a whole new world–filled with family members she's never met, dances she's never learned, and a new side to the father she thought she knew. As she struggles to fit in during their extended stay, she finds a friend in James Sackett, the most valued steamship pilot of the Ballantynes' shipping line. Even with his help, Rowena feels she may never be comfortable in high society. Will she go her own way . . . to her peril?
With her signature attention to historical detail, Laura Frantz brings 1850s Pennsylvania alive with a tender story of loss, love, and loyalty. Fans will cheer for this final installment of the Ballatyne saga.
I loved the first two books in this series, so it's no surprise that I thoroughly enjoyed this one :). I read it, as I do many books, in one afternoon. Tears filling my eyes on more than one occasion and my heart aching for Wren and Jamie.
The detail is fabulous. The characters compelling. The setting well defined – both the town and the countryside. The intricacies of society… stifling. Much as Wren found them, I would imagine. And intriguing.
Jamie and Wren fall for each other almost instantly, but she's a Ballantyne. And Jamie… is not. And he's wanted [not by the law!] and in danger. Wren feels obligated to do what she feels is best to protect not only her family, but Jamie as well.
Set a decade before the War Between the States, the fight over slavery is coming to a head and colors everything to one extent or another. Seeing the characters from the first two books was quite fun and I was glad to get an update on them.
About the only thing I didn't like… I wish there had been a bit… more. Another fifty pages or so maybe. The end felt a bit rushed to me, but, as I've often said, I'm a "literary voyeur." I always want more. That could well be the case here. I also would have liked to see more of Wren's father. I get why we didn't, but I would have liked it ;). I also wanted to see one character get a bit more of a comeupance, but I get that too. I also would have liked to know if Silas changed his mind about his heirs at any point…
I know that seems like a lot, but honestly, it was a fabulous conclusion to a wonderful series. The nit-picky I wishes are only because I cannot find the words to convey the incredible writing and the way-above-average story telling. I don't know what Laura has up her sleeve for next time, but I can't wait to see it!
[If only it could have Captain Jack… 😉 And if you don't get that reference, check out The Frontiersman's Daughter.]
Overall rating: 9.25 out of 10 stars
Thanks to the publisher for a copy in exchange for my honest review.