Review: Captured by Love by Jody Hedlund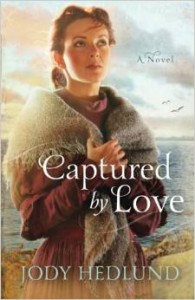 A voyageur and a young woman swept up in a time of upheaval and danger
discover firsthand the high price of freedom.

The British Army has taken control of Michilimackinac Island and its fort, forcing the Americans to swear an oath of loyalty to the crown in order to retain their land. Pierre Durant is a fur trader who returns after being away from the island for years, only to find the family farm a shambles and those he cares about starving and at the mercy of British invaders.
Torn between the adventurous life of fur trading and guilt over neglecting his defenseless mother, Pierre is drawn deeper into the fight against the British–and into a relationship with Angelique MacKenzie, a childhood friend who's grown into a beautiful woman. She now finds herself trapped by the circumstances of war and poverty, and the cruelty of her guardian, Ebenezer Whiley.
As tensions mount and the violence rages on, Pierre and Angelique must decide where their loyalties rest and how much they'll risk for love.
Captured by Love is book three in the Michigan Brides series. To the best of my knowledge, there is no connection among the three books except that they all take place in Michigan.
As expected from Jody, the historical details are fabulous. Angelique is wonderful, though she's engaged to the wrong brother. He's a wonderful and everything, but she's always been in love with Pierre, even before she knew it.
The two of them likely could have been happy together, had a good life, but during the war with the British, everyone is desperate. Settlers are starving. Soldiers are starving. Angelique's stepfather is evil. It's a perfect storm of desperation and fear.
By the time the war draws to a close, Angelique will have to decide what – and who – she wants. The question becomes – can she have it. And will they all survive?
In true Jody Hedlund fashion, the story draws you in and doesn't let go until long after you turn the last page.
Overall rating: 8.5 out of 10 stars
Thanks to Jody and the publisher for a review copy of this book.