Easter, Eye Patches and Something Else Cool That Starts with an "E"
[Yeah, so another E word wasn't coming to me – ideas anyone? You'll get props in the next post… for whatever that's worth ;)]
First a few notes – there's some FABULOUS free ebooks right now! These are Kindle links, but I believe all of them are also available on Nook.
Candace Calvert : Code Triage [the heroine from her forthcoming Trauma Plan Preorder  [not free] is introduced in this book]
Mary Connealy: Out of Control – book 1 in the Kincaid Brides books
Sandra Bricker:
Always the Baker, Never the Bride is currently 9.98 and is book 1 in the series [I've read this one and my sister has read both the others – they're up soon in my queue – watch for reviews]
Always the Wedding Planner, Never the Bride book 2
Always The Designer, Never the Bride book 3
Janice Thompson: Fools Rush In – book 1 in the Weddings by Bella series – all of them sooooo worth it! And she's got another series of four related books coming out sometime soon – or the first one is anyway ;).
Be sure to double check before you buy, but there you have 'em.
Easter was yesterday and my kids looked so nice!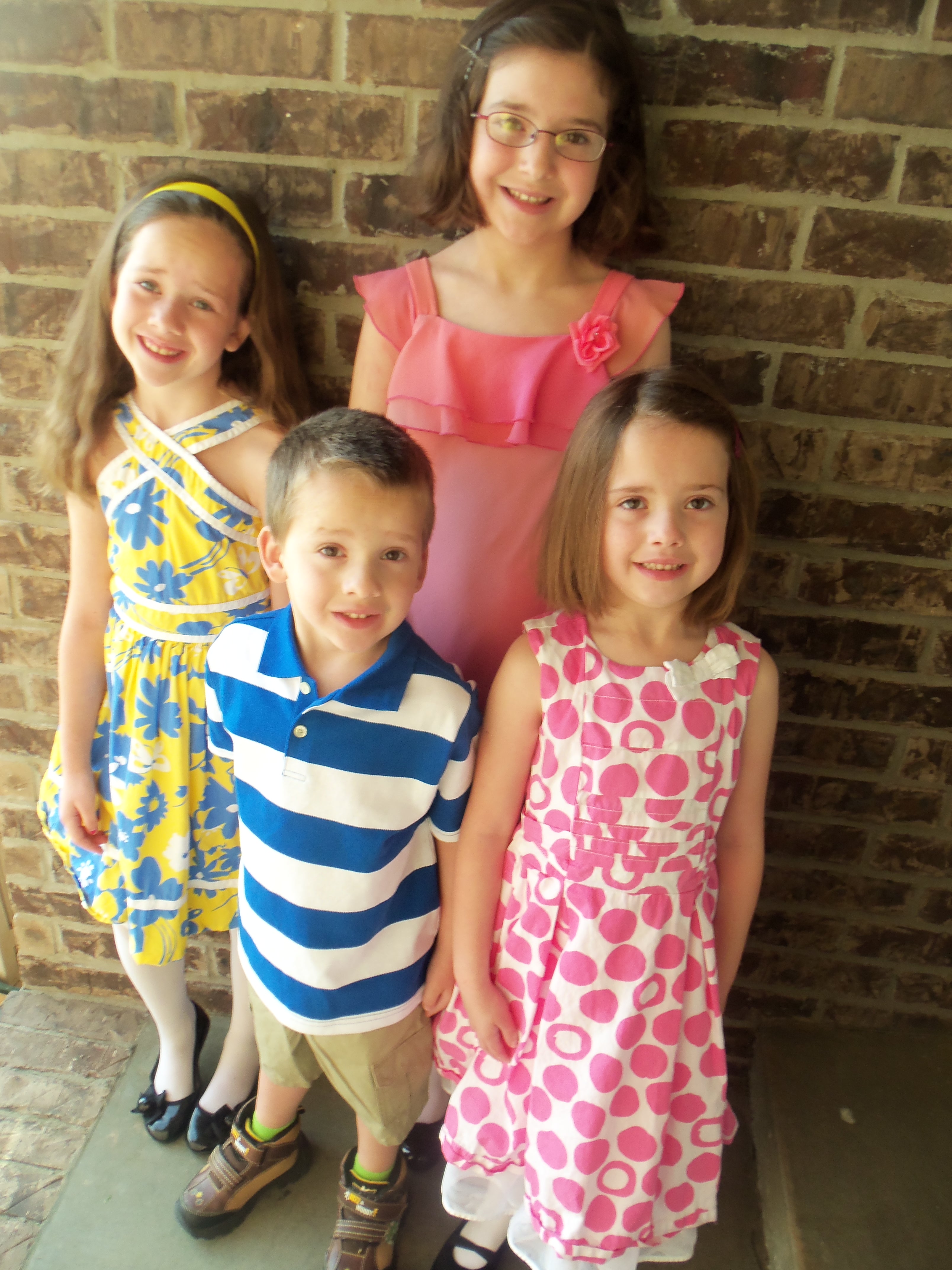 At least until it was time to hunt for eggs with Grandma – then they looked goofy ;).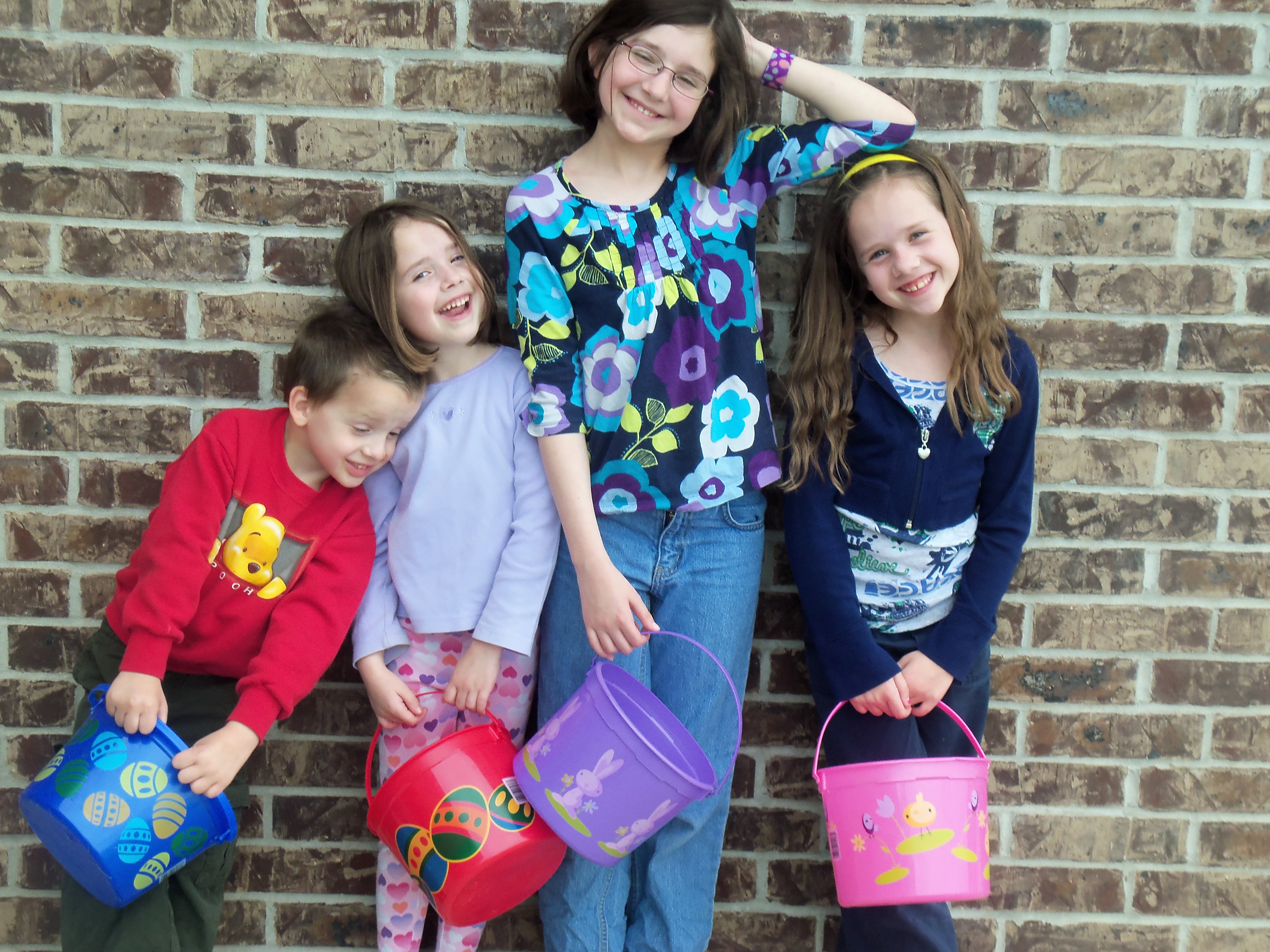 So… me…
My face is still only half working. I've been pondering this post since yesterday, trying to figure out what I'm going to say. I want to be witty and funny and make you smile [since I can only half smile so that between the two of us we'd each have 3/4 of a smile and that's pretty good] but I just can't at the moment. A big part of that is probably because I've been trading kids' clothes today. You know, that day twice a year where you trade winter and summer clothes. All the appropriate clothes are out of the closet under the stairs, but the winter clothes aren't ready to go back in, so have to finish that laundry and would REALLY like to get it all put up RIGHT this time so it's super easy in October, but I'm not holding my breath on that one. I do have a big black trash bag overflowing with clothes we'll be giving away and another one full of shoes [and we have some more shoes to go through – see what still fits or will fit someone in the future and all that good stuff].
You'd think "Hey, it's half your face. It's not like your body isn't working right. It shouldn't be that hard." And I'd agree with you if it wasn't me. But it wipes you out. I thought the same thing a couple months ago with the whole nose thing. "It's my nose! It's not like I got my leg cut off!" But the same thing was true then.
Yesterday, I went to church looking something like this [here is your promised pic, Mary, dear]: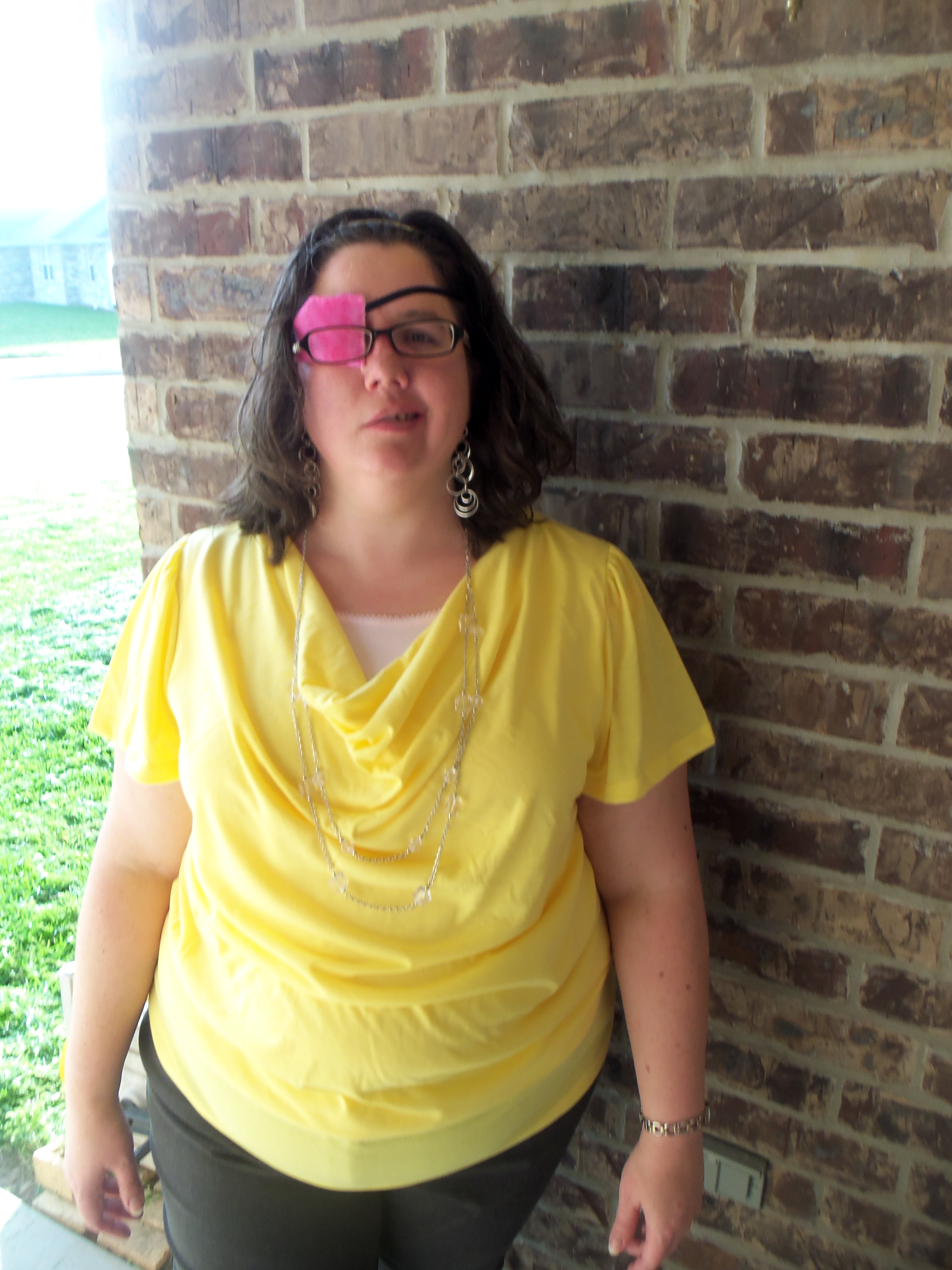 I felt way cuter than I looked, I think. The people at church fell into three groups:
Random people I didn't know who didn't look at me TOO funny, but still did see a few sideways glances [but only from people on my left… cuz of the eye patch on my right eye ;)].
Friends who already knew what was going on – gave me big hugs and sympathized.
Friends who looked at me, double taked and asked "What on earth? Are you okay?" or some variation thereof, then hugged me and sympathized.
All in all, not too bad. I felt cute and I don't feel like I look weird, but then I can't really see that only half my face is working. The eye patch helps my right eye rest when I don't need it so it's not too tired when I do [like while driving, etc.]. My left eye is overcompensating though and it gets tired too.
Do you know how hard it is, though, to take 18 pills a day when only half your mouth works?! Fortunately, my biggest group of pills is "only" 8, but I did almost choke on two of them the other day so I make sure not to do it when no one is around ;). Should take a pic of all of them for next time…
I hadn't planned to start a new WIP until I'd finished editing/polishing-until-shining both Finding Mr. Write and the Speedbo* project. Possibly not until July at the Novel Sisters Writing Retreat with Jess and Kristy. But, as I mentioned the other day, ideas were fomenting and yesterday during praise and worship, the opening scene wrote itself in my head. Last night, I wrote 2500 words and today another 350 in between everything else. I had some really good ideas last night on the heroine's** profession and some good conflict, but I had my sleep mask on [another part of the whole Bells Palsy thing] and didn't write it down. :p
I really wanted to work in some more $5 words so Janella*** could find another red sticker under her seat****, but none are coming to me…
So I shall end this here and try to have more fun stuff next time. The urgent care guy called yesterday and said I should be seeing some improvement in the next couple of days though it'll be several weeks to several months before I'm back to normal [Quiet, Ruthy! You too, Mary!]. Haven't seen anything yet and tomorrow, teaching two classes should be interesting as my speech tends to deteriorate when I talk a lot. Just do my best I suppose. It's all I can do :D.
*Be sure to check out my Seekerville Speedbo page – I finished! I reached the end and hit 70K – even though I did that on 4/1]
**Named after dear friend, Pepper Basham. Cuz Pepper is an awesome name.
***If you don't know Janella, you should. She's awesome.
****See comments last time