Clash of the Titles: Staff Clash Winner – Delia Lathem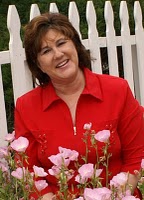 Congratulations to Delia Latham for taking the crown in last week's Staff Clash. Two anonymous COTT staffers went into the ring and readers had another hard choice to make. Some said:
"This was a cruel choice!! LOL! They were both excellent."
 (About Delia's excerpt): "Beautiful words expressing emotion and making the reader want more."
 "Intense emotions on both excerpts! Great job!"
 "Terrific excerpts!"
(About Katie's excerpt): "I need to know Wulf better! I have a feeling he's dreamy."
"Awesome clash with two well-written, emotion-packed scenes! Great job, authors!"
Of course, nobody knew at the time that those authors were Delia Latham and Katie McCurdy.
Both are recent additions to the staff. Delia has come on board as a Blog Alliance Correspondent, and Katie is the official Talent Scout. (Looks like COTT scouted some talent when they found these two gems.)
This fun excursion was a great interjection into the usual good times shared at Clash of the Titles. This week sees another fierce challenge with nameless authors nominated by COTT staff. Be sure to head over there and vote now!
And in just 2 weeks, the party begins! Mark your calendars for October 10th and be ready to play for extra prizes all month long as COTT celebrates it's first anniversary. Your vote will determine which of the year's winning authors will receive the ultimate honor: the Laurel Award.

**end html**