What I've Read…
I've read three books this weekend :).  It's been a LONG time since I've done that!
Saturday, my sis and I took all three girls to get library books.  I picked up three.  Here are the reviews: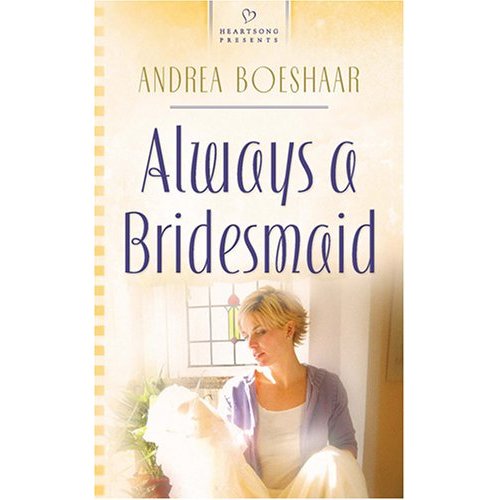 Saturday night, I read Always a Bridesmaid by Andrea Boeshaar.  It was… okay.  Spoilers coming.  It's the only book I've read by this author so I don't know if it's the author or this particular book or what, but parts of it seemed contrived and forced a bit, even skimmed over.  We didn't get to see the big confrontation at the end [and I understand why – neither the male nor female romantic leads were there and the book was written strictly from their POVs – point of views – but I still feel a bit cheated].  I'm sure some of it was the type of book – it's a Heartsong Presents book which has, as I understand it, strict [shorter than most] word counts and 'rules' so that may have played a role in it.  I think if it was about 1.5xs as long, more in depth on some things, etc. it would have been much better.  But that's just my opinion of course :).
Melody in her early/mid-20s and moved home after her boyfriend, Scott, disappeared.  She then discovered that he'd had several other girlfriends, including one who eventually had an abortion.  She dropped out of college but has been slowly getting her degree.  Her little sister, Bonnie, comes home one day, announces she's engaged then introduces the whole family to Scott.  Scott denies there was ever a relationship with Melody.  She tells her family about it, but because she hadn't told them about it when it happened (she'd never mentioned Scott at all) and because she'd crossed certain physical boundaries (they never had sex and I'm not quite sure how far they ended up going), her parents, particularly her mother, choose to believe Scott's version of events over Melody's.
That annoyed me to no end as did how her parents, particularly her father, treated her at times.  Yes, she was living with them and needed to follow their rules, but when she left to go drive around one night and didn't return, it was like she was a sixteen year old with a brand new license.  There were a couple of other things like that that annoyed me as well.  I get the 'you're living in our house, our rules are you let us know if you won't be home after x time and if not doing it becomes a habit, we're going to have to rethink this arrangement' but this was more of a 'if it happens again, you're grounded, young lady!' type of thing.
Melody falls in love with boy-next-door Luke who has been pining for her since childhood.  He believed her from the beginning.  Bonnie finds out about Scott when Scott tries to convince Melody to break up with Bonnie for him.  He's leaving for medical school and doesn't want to be entangled while there.  That's a lie, of course, and when Bonnie and Dad confront him, he's living with another pregnant fiance he plans on leaving behind as well.   That's the confrontation I felt cheated out of.  The family ends up taking the pregnant girl under their wing and the book ends with Melody and Luke's wedding.
It wasn't a BAD read, but not a GREAT one either.  I'd give it 2.5 of 5 stars.
The other two books I borrowed were by Deboray Raney.  I started one Sunday night and read about ten chapters.  I finished that one then started and finished the next on Monday.
EDIT: I took out the next two reviews and will post them later – changing the format to one per post =D.
One of the other books I read, Yesterday's Embers, may have also broken a logjam for me in my second novel, currently underway, and the sequel to my first.  The title of the first book is currently Unbreak Her Heart by the way.  I don't think I've actually mentioned that…  Anyway, Yesterday's Embers may have been a bit of an answer to prayer in that way – but time will tell :).
Hope everyone has had a fabulous holiday weekend.  Tomorrow… potty-training the two-year-old…