Grace to Save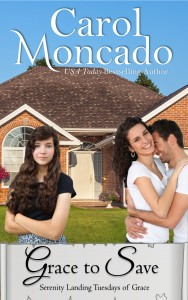 Available on Amazon
Travis Harders has been a single dad since the day he learned he had a daughter with his only one-night stand. Fifteen years later, he and Cassie are getting along just fine and he's even fallen in love. The last thing he expects to find on his doorstep one Tuesday morning is Cassie's mom – the one person he thought he'd never see again – and she's asking the impossible.
Circumstances, including her firefighter brother's death on 9/11, forced Abi Connealy into a decision she's spent years regretting and her daughter grew up without her. But now, a family crisis compels her to do the one thing she swore she never would: find the daughter she'd abandoned just a few days after birth.
Shocked when Travis doesn't send her packing, Abi prays to a God she doesn't believe in that her relationship with her daughter will be restored. Travis plans to propose to his girlfriend, but their relationship hits the rocks as he and Abi both struggle with the long-dormant feelings that never had the chance to develop.
When Cassie demonstrates incredible grace toward the grandfather who refuses to acknowledge her existence, Abi begins to learn the love of a Savior – a Savior who has more than enough Grace to Save.