Dare You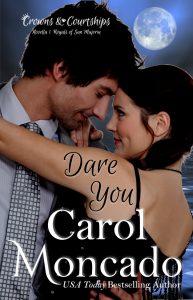 Available on Amazon
(Previously available free as part of newsletter promotions.)
Crowns & Courtships
Novella 1: Royals of San Majoria
She needs a fake boyfriend. He's just daring enough to try to turn it into something more.
Betsy Haines is running away from a broken heart, but when she – along with her best friend, brother, and his best friend – arrive in Serenity Landing for the July 4 celebration, she finds herself the target of the affections of a creep.
Dare Weaver has been half in love with his best friend's little sister for as long as he can remember. When she needs a pretend boyfriend, he's only too happy to oblige. He finds himself daring to live up to his name – to try to turn something pretend into something permanent.