Finding Mr. Write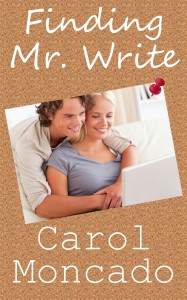 Available on Amazon
Jeremiah Jacobs moved to the Ozarks for a fresh start. He knows no one and has no plans to get romantically involved with anyone. Ever. He's already had his heart ripped out once and once is enough. Besides he has contractual obligations that prevent him from talking about work – and what woman would want to be involved with a man who has to keep his job a secret? When he attends his first local writers' group meeting, he finds the leader so intriguing, his instant attraction to her threatens to complicate his currently uncomplicated life.
Dorrie Miller has never been good enough. Not for her father or any of the guys she's dated in the past. She's pushed beyond her father's disapproval to have a good career while pursuing her dream of becoming a published novelist. The Christian Authors Network – Dedicated to Inspirational Distinction, or CANDID, is hosting their annual conference in Indianapolis and who's rumored to be in attendance? The super reclusive, super-star author, Mya Elizabeth Linscott.
The hunky new member of her local CANDID group, Jeremiah, wants to carpool to Indy. Dorrie can handle not making a fool of herself for eight hours each way. Right? But she never imagined doing a favor for someone during the conference would leave her accidentally married to the gorgeous guy she barely knows. How will she get of this mess, married to a near stranger? Does she want to? Will her insecurities and Jeremiah's secrets tear them apart? Or can she trust that, all along, God's been helping her with Finding Mr. Write?