Love for the Ages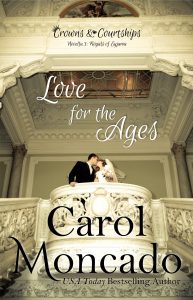 Available on Amazon
Available FREE to newsletter subscribers!
Crowns & Courtships Novellas
Novella 3: Royals of Eyjania
Before she was the queen mother, Eliana Robertson was just a young woman studying at an Auverignonian university.
Then she met a prince.
Crown Prince Alfred of Eyjania knew he wanted to marry Eliana the moment he saw her, but even though he knows they're meant for each other, it can't be that simple.
A scheming brother, a sister who thinks she knows best, and a mom who would give anything for her daughter to be queen all make it difficult for Alfred and Eliana to discover if they really do have a Love for the Ages.