Premieres & Paparazzi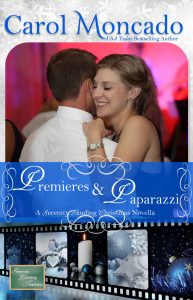 Available on Amazon
Claire Cruz Cartwright is ready for a change.
She sold her house in LA and headed for the Ozark mountains and Serenity Landing, where she'd started taping her new show.
A chance encounter may convince her it's time to risk her heart.
Kevin Rogers doesn't date often and when his latest first date – with someone found on a dating app – goes disastrously wrong, his day is saved by a beautiful stranger at the next table.
He has no idea she's also a television star.
Their fledgling relationship is threatened by allergic reactions, spying photographers, and tabloids. Can they overcome the challenges thrown at them by Premieres & Paparazzi to get their own Happily Ever After?