The Indentured Queen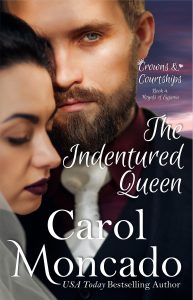 Available on Amazon
Crowns & Courtships
Book 4: Royals of Eyjania
King Benjamin is about to have control of his own home for the first time in his life. By evicting his uncle, he can finally become the ruler he was meant to be.
Finally live up to the legacy handed down to him, beginning with King Alfred the First, and embodied in his own father, King Alfred the Second.
But revenge is a dish best served cold – or at least lukewarm – and his uncle's revenge comes just two days later when a press release announces Benjamin's engagement.
To a modern-day scullery maid.
Katrín Jónsson took over her mother's debt to the Eyjanian royal family as soon as she turned eighteen. Five years down. Only ten – or more – to go.
Until the king offers her a way out.
Marry him, in name only, for a year, then disappear. Her indenture will be paid off – and, more importantly, her mother and brother will be taken care of for life.
The wedding won't change anything about her life because no one will know the truth of their arrangement.
A disconcerting incident softens Katrín's heart toward the usually impassive king. But, even as she begins to fall for the man he could become, she wonders if she'll ever be more than The Indentured Queen?