The Lifeguard, the Abandoned Heiress, & Frozen Custard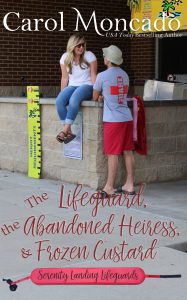 Available on Amazon
Adam Wilkerson is a lifeguard at the Serenity Landing Aquatic Center, and looking forward to a summer of fun and freedom before settling into adult life. The sudden appearance of a young woman with secrets, but who somehow manages to stir in Adam emotions long dormant, threatens to change his summer plans.
Gwendolyn Cranston-Schmidt is looking for a fresh start, and her one hope at help – her cousin – is unavailable. Time to find a job and a place to live. For a girl who's never worked a day in her life, the struggle is real. Plus, her secrets are going to find her out, sooner rather than later. What she didn't plan on was a cute guy who easily finds his way past her protective barriers.
Adam and Gwendolyn find themselves spending more and more time together – and sharing their secrets. Can they find a way to get beyond both of their pasts – or will their pasts come back to haunt them before they can move forward together?
(Previously available as part of the Whispers of Love Collection)