Small Town Girls Don't Marry Secret Princes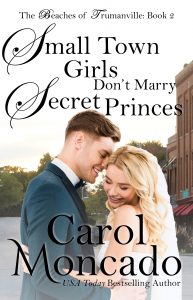 January 28, 2020!
He's a prince living abroad.
She craves a quiet life in her hometown.
A doll-sized coronation gown and an ancient law change everything.
Beaches of Trumanville
Book 2
Lani Beach had her shot at stardom and turned her back on it.
Now she just wants to help with her sister's HEA TV movie then go back to teaching drama to high schoolers. Helping transport an heirloom across state lines just might change that.
When Prince Harrison of San Majoria moved to the States for university, he wondered if he'd find an American to fall in love with.
He just didn't expect a two-foot replica of his grandmother and her coronation gown to help him find the girl.
Lani refuses to hand off the heirloom replica to a foreigner who's never seen a Maryland Heights Crimson Knights baseball game. He refuses to let her go to the next hand off alone.
She finds herself falling for him – until the actual former queen shows up in her hotel room and Lani discovers Harrison's true identity.
That's enough for her to walk away, because Small Town Girls Don't Marry Secret Princes.
Unless an ancient law says she already has.