Prince From Her Past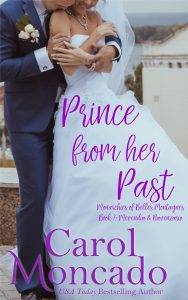 Available on Amazon
Princess Yvette of Mevendia has been engaged since before her first birthday. Thanks to the ridiculous contract her father signed, the engagement is still intact and the wedding set to occur a week after her eighteenth birthday, even though the groom's been dead for over seventeen years.
Or has he?
Prince Nicklaus of Ravenzario and his nanny narrowly escaped death when a car accident claimed the lives of his parents. Raised in hiding in the United States, and recently informed of his royal heritage, Nicklaus has returned to the land of his birth just in time for his wedding.
Nicklaus finds himself attracted to Princess Yvette, but is that enough to go through with the wedding? Or will he suffer banishment not only for himself, but the nanny who raised him and the fiance he's only just met? Despite his tall, dark, and handsome appeal, Yvette isn't sure she wants to go through with the wedding – but she really doesn't want to be exiled either. She prefers to be proactive, to go after what she wants, but this time, the princess finds her future, her chance at happiness, in the hands of the Prince from her Past.