What I've Read Wednesday: Mangum Edition, Part 2
Setting this up early so no new status updates ;).
From the Back Cover:
With two matc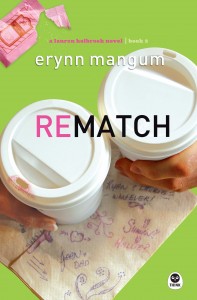 hes under her belt, Lauren's ready to get back to work. Lucky for her, her job at The Brandon Knox Photography Studio makes it even easier to work her magic on her best friend and boss, Brandon, and the adorable receptionist, Hannah. And since she's at Shawn's cafe every day anyway (a girl's gotta feed her caffeine and chocolate addictions, doesn't she?), why not look for his perfect match as well?
But with all her love-connection luck, Lauren's thrown for a loop when her dad announces that he's heading out of town for a singles retreat. But in the midst of panicking about her dad and potential future stepmom, there's also the matter of Ryan–love interest or friend? Only time, vats of coffee, and pounds of chocolate will tell!
What I Liked:
Still love Lauren – though I was convinced that she and Brandon should end up together.  In this one, she's determined to get Brandon, her boss and best friend, together with Hannah, the photography studio's receptionist, Lauren's other best friend and Ryan's sister.
Ryan – still a pretend boyfriend.  Becoming a best friend especially as her relationship with Brandon changes as he and Hannah grow closer together.  While they remain close, Lauren and Brandon's relationship has to change as he falls in love and prepares to get married.  Ryan fills the void for Lauren.
Love her family and quirky assortment of friends.
What I Didn't Like:
Still think Lauren and Brandon could have been good together ;).
Overall:
Another fun, chick lit, rom com easy read.  Lauren is still Lauren and still so much fun.  Another 8.5 out of 10 stars.