Review: On a Ring and a Prayer by Sandra D. Bricker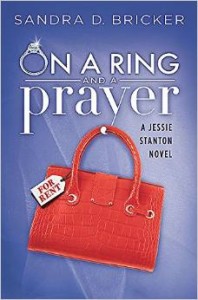 Twelve years of marriage, 4,000 square feet of dream house, and a handsome husband. Jessie Stanton has it all… until one fateful afternoon when she notices her BMW bouncing by the window behind a tow truck. Her husband has gone, and he's taken it all.
The whirling tornado that cuts down the life she's built drops Jessie onto the sandy beach of Malibu with a thud, penniless and alone. When all she's left with are the designer labels in her closet and the dreamy Neil Lane rock on her finger, Jessie tries to make ends meet by pawning her prized ring to fund a new business venture: a small shop where her designer duds and shimmering accessories are temporarily leased out to Southern California women with champagne tastes but root beer realities. As Jessie tries to rebuild, she realizes she can't move on, not without answers. Reluctantly, Jessie turns to beach bum/private investigator Danny Callahan for help. But is she staking her future success and happiness…on a ring and a prayer?
This is a new series for Sandra D. Bricker and a bit of a departure – at least from the other books I personally have read. Those were much more rom-com along the lines of Janice Thompson. While On a Ring certainly had it's funny moments, it was much more serious in tone than a rom-com.
That's not to say I didn't enjoy it. I ABSOLUTELY did! It just wasn't what I expected.
I love Jessie and her resilience after her husband of more than a decade took off and took her life with him. Her car, her home, even her cell phone all suddenly disappear and she's left with her clothes – and her stunning wedding and engagement rings. Enter BFF Piper and a private investigator she knows of – Danny Callahan.
With help from Piper, Danny, his best friend Riggs, another fried of his named Steph, a random meeting in a women's room with Amber, and subsequent meetings that can only be God-ordained, she begins to put the broken pieces of her life back together.
I loved the snippets from her grandfather and his down-home Louisiana wisdom. I also loved the twists and turns (and am proud to have called a couple of them very early on!)
The one "down side" to this book? It ends on a bit of a cliffhanger and we have to wait until the next book to find out what happens next! AH! It's not that different from any series that follows a single couple from start to finish over several books, but many end on a satisfying note (like an engagement). This one? More like the season finale of your favorite tv show that leaves you wondering from early May to late September about the fate of that beloved character! It leaves you a bit frustrated, but you spend the next few months with it always niggling the back of your mind wondering what happens next – and frantically searching the internet once a week or so for spoilers once taping begins again ;).
I'm excited for this series and can't wait for the sequel!
Overall Rating: a SOLID 8.5 out of 10 stars
A copy of this book was given to me in exchange for my honest opinion.