Review: In the Field of Grace by Tessa Afshar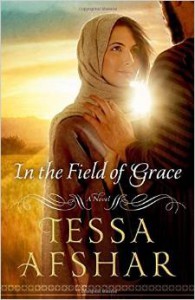 Destitute, grief-stricken, and unwanted by the people of God, Ruth arrives in Israel with nothing to recommend her but Naomi's, love. Her loftiest hope is to provide enough food to save Naomi and herself from starvation.
But God has other plans for her life. While everyone considers Ruth an outcast, she is astounded to find one of the most honored men of Judah showing her favor.  Long since a widower and determined to stay that way, Boaz is irresistibly drawn to the foreign woman with the haunted eyes. He tells himself he is only being kind to his Cousin Naomi's chosen daughter when he goes out of his way to protect her from harm, but his heart knows better.
 
Based on the biblical account of Ruth, In the Field of Grace is the story of a love that ultimately changes the course of Israel's destiny and the future of the whole world.
Ms. Afshar is known for her novels set in Biblical times. From her debut Pearl in the Sand to the fabulous Harvest of Rubies and Harvest of Gold, she weaves tales that take you back millenia to the days long before even Roman gladiators. Pearl in the Sand is the story of Rahab and In the Field of Grace is the sequel – the story of Ruth. I've been wanting to read a Really. Good. adaptation of the story of Ruth for some time*, and Ms. Afshar doesn't disappoint.
I loved how Naomi took the young Ruth under her wing. I hated how Ruth was treated at home and understood completely why she had no desire to return home after the death of her husband.
The historical detail is amazing but not anything like reading a textbook. The history and romance are well-balanced. Once I started, I couldn't put the book down. In fact, I ordered a paper copy even before I finished the ecopy I was given for review.
From Moab to the threshing floor to the time of King David, it was a page turner, and a must read.
Overall rating: 9.25 out of 10 stars
*For a Texan twist on the story of Ruth, check out Regina Jennings fabulous debut Sixty Acres and a Bride.
Thanks to NetGalley and the publisher for an ecopy in exchange for my honest review.