Review: Bouquet of Love by Janice Thompson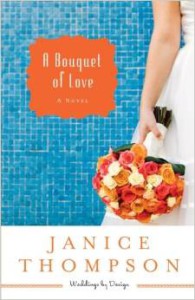 She didn't expect to fall in love–but roses aren't the only thing blooming on Galveston Island

Cassia Pappas has found herself in a nearly impossible situation. She wants to spend her time immersed in her new job at a Galveston Island floral shop, arranging blooms and brightening occasions with her lovely creations. But her boisterous Greek family–especially her father–has other ideas. They've all relocated to Galveston to open up a new family restaurant located on the Strand–directly across the street from iconic pizza place Parma John's–and they want Cassia's full participation.
To make matters worse, as Cassia is trying to develop a strong professional relationship with Galveston's premier wedding coordinator, Bella Neeley, her own father is intent on stealing all of the Rossi family's faithful customers. Not exactly the best way to get into this former Rossi's good graces!
Still, at least Alex, that hot delivery guy from the nursery, is always hanging around the flower shop . . .

So everyone knows I love Janice Thompson and her books!
This is the final book in the "Weddings by Design" series. First we had the photographer, then the cake designer, then the dress designer, and now the florist.
The relationship between Cassia's Greek family and Bella's Italian one is definitely fun! You might remember Cassia's family from the second book in the Backstage Pass series, Hello, Hollywood. Cassia is cousin to Athena Pappas who was the head writer for the TV Show Stars Collide.
Cassia works in her family's Greek sandwich shop but deep down, she wants to be a florist. Designing bouquets. She picks up a job at a florist down the street – only to discover that the shop belongs to a member of her father's new archenemy's family – the Rossis. To make matters worse, cute delivery boy Alex? Yeah – he has ties to the Rossi family as well – and not just because he delivers flowers.
With her trademark humor, Janice brings the characters and settings to life. With visits to Splendora and the Rossi house – along with appearances by Rosa and Laz – this is a not-to-be-missed summer read.
And if it's not summer, it's a great read anyway!
PLUS!!! Wedding by Bella book 4, That's Amore, comes out in November. And book 1 of Janice's new series – Brides with Style – Every Bride Needs a Groom comes out in April. You can see the new covers on Amazon :D.
Overall rating: 9 out of 10 stars
Thanks to the publisher and Janice for a copy in exchange for my honest review.