What I've Read Wednesday, Volume 3
Current Facebook Status: made it to S7 of NCIS! Watching Ep 1. Favorite quote so far – Gibbs: Some idiot smuggled a koala on a submarine ;). Really wishing the DVDs had a 'play all' option though :p. Would much rather just watch but alas, laundry and schoolwork are calling her name.
Currently Playing in the Background: whiny 3 year old. NCIS S7 Ep 1 is paused.
Very Special Thanks go to Candace Calvert who posted a link to the review of Critical Care on her Facebook page :).  I think I want to be like Candace when I grow up – without the nursing thing /shudder/.  Nurses rock – believe me, I know; we've had some absolutely stellar nurses with Christopher [and some not so stellar but mostly awesome] – I have no desire to be one of them ;).  She even mailed bookmarks to new subscribers of her newsletter [if you gave her your snail mail address – I signed up that day but think I just put my zip code – boo!  Ah well!] – I still think that's way cool.
Yesterday was a way cool day for me.  Won the Nathan Bransford 1000th comment contest and have sent my query letter and first five pages off to him.  It was also my biggest 'hit' day yet :).  That was pretty awesome.  Not that it was a huge day in terms of blog hits Internet wide, but for me it was neat.
Today, I get three books which makes today a pretty good day, too!  It's also the 17th anniversary of my first date with my hubby; the 14th since he proposed.  So laundry, schoolwork, then I may read Code Triage, the sequel to today's book review :).  Without any further ado…
From the back cover: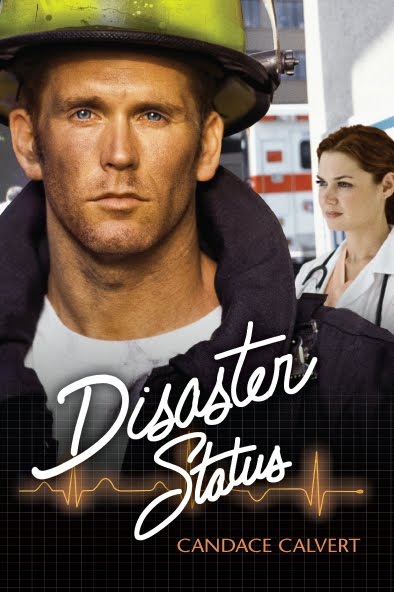 ER Charge nurse Erin Quinn escaped personal turmoil to work on the peaceful California coast. But when a hazardous material spill places Pacific Mercy Hospital on disaster status and stresses staff, she's put to the test. And thrown into conflict with the fire department's handsome incident commander, who thinks her strategy is out of line.
Fire Captain Scott McKenna has felt the toxic effects of tragedy; he's learned to go strictly by the book to advance his career, heal his family, and protect his wounded heart. When he's forced to team with the passionately determined ER charge nurse, sparks fly. As they work to save lives, can they handle the attraction kindled between them . . . without getting burned?
What I Liked:
Erin.  She was in Critical Care as well.  I liked her then and I like her now.
Scott.  Shocking, eh?  Liking the male lead? 😉  But I did like Scott, flaws and all.
Iris, Erin's grandmother.  Flawed but wonderful!
Dr. Hugh McKenna, Scott's grandfather.  A perfect balance for Iris – hope we eventually find out what happens there ;).  I also liked Scott's nephew, Cody, as well as the rest of his family.
Sarge – despite everything, I felt for him.  I knew his motivations and his heart were sound and I longed for him to find what he needed to.
Leigh – the ER doc – loved her and am glad she's up in Code Triage.
Annie and Arlo – fun addition!  Coffee at a bait shop sounds about right to me.
All the other people we're supposed to like.  I wasn't crazy about the fear mongers, but who would be?  That was the point.  The others – from patients who passed, to families who mourned, to those who rejoiced in healing – I liked J.
Elmer Fudd and Jonah – because who doesn't love a goldfish named Elmer and a yodeling dog?
What I Didn't Like:
Not nearly enough Claire and Logan.  The couple of glimpses into what was going on in their lives was nice, don't get me wrong, but a visit to them a couple years down the road would be most welcome as well :).  Since Code Triage is about Leigh, who doesn't know them, it doesn't seem likely that we'll get much of an update.  Maybe they move to Texas for her new series.
The end.  Those two words are the bane of this reader's existence. :p
Overall:
The book had been in my Amazon cart, but since I just read it and only three books were being purchased, I chose to go with a different one.  That said, it will make its way back into the cart before long :).
9 out of 10
[And yay! The 3yo fell asleep! On to ep 2!]