#NaNoWriMo2017, Day 9 or Day After My Birthday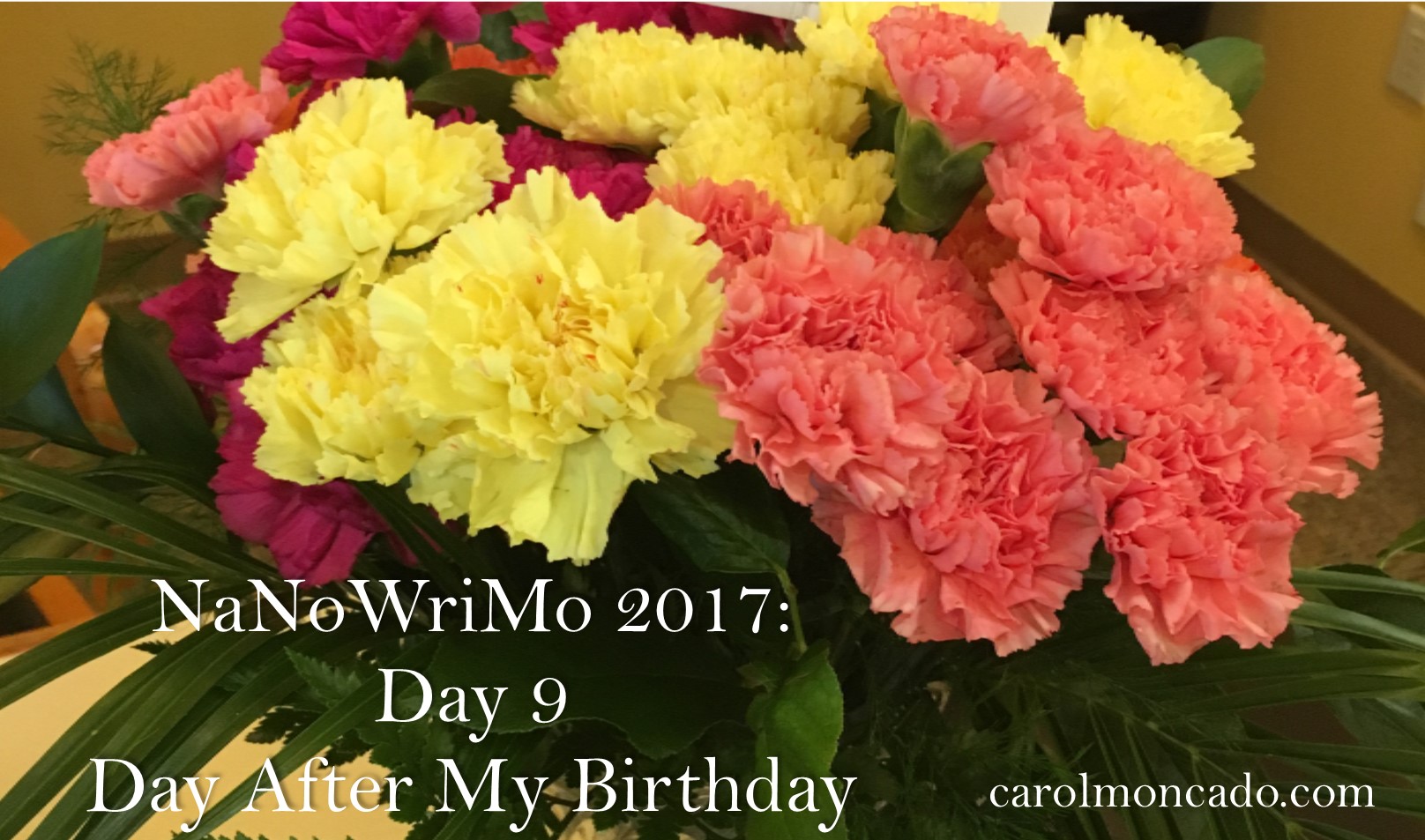 Thank you so much to the HUNDREDS of Facebook friends who reached out in timeline posts, sneak attack hugs (that's you,
Terri
!), instant messages, and texts. Even
Kari
who electrocuted and beat/hammered my hip after I hurt my side/back/hip area yesterday. Had breakfast at Chick-fil-A, got my free milkshake, and wrote almost 300 words. Got my tri-weekly craniosacral massage (where said hip/back/side area was also worked over). Found flowers from
Matt
waiting for me when I got there (see header pic). I think I'll keep him.
Spent a huge chunk of my day thanking friends on Facebook!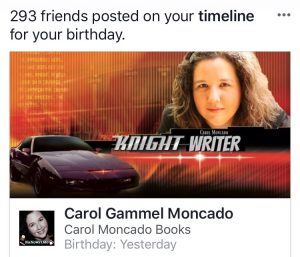 Had lunch with Bobbie
. Texted with
Felicia
. Picked up free
Andy's Frozen Custard
because my treat was about to expire. Came home. Hung out with my kids. Took two kids to church.
Got road raged at by a guy who thought four feet was too close to stop behind his new truck and kept eyeing it like I'd dinged it (dude – my bumper wouldn't ding your truck – yours would ding my hood). Held it together until I dropped the kids off. Bawled my eyes out to
Emily
. Checked with a local PD friend to see if I should file some sort of official report (since the guy didn't have a license plate so no way to prove who it was). Did NOT drown my sorrows in the Andy's, but saved it for another day.
Picked up the girls. Got gas. Realized I pushed my "how many miles can I go" way too far (technically, we put more gas in than my tank holds by a quarter gallon) even though my miles traveled was at least 30 miles under what I should get.
My back/hip/side hurt like crazy. I tried to write but it didn't go very well :/.
Hopefully today goes better…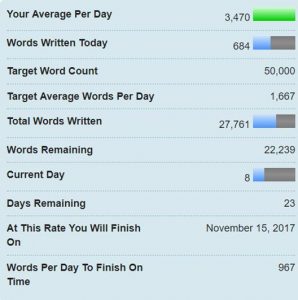 Yesterday's Stats:
In Concert With the King
Yesterday: 685
Total: 37049
NaNoWriMo 2017
Yesterday: 685
Total: 27762
Anticipated Completion Date (50K words): November 15 (up 2 more days)