#NaNoWriMo2017, Day 6 or My Dog is Crazy
To anyone who knows Mr. Benny, this isn't news.
But the dog is crazy.
For the last few months, especially at night, he'll only drink his water if I'm looking at him. Occasionally, he'll get desperately thirsty enough to drink anyway, but not usually. He stands there and huffs, then growls, then barks at me until I turn around (the back of my desk chair is usually facing his bowl).
He's nuts.
I didn't end up in my friends' rec room as long as originally planned yesterday, but I did get some words in. Only about half as much as I originally planned. I took a kid to work this morning and recorded most of a scene while I drove back. Transcribed it after I got home. While texting with my first reader today, I had some ideas on how to get to the next already written scene and it should be a lot of fun. Hopefully, I'll get a lot done today around doctor's appointments for all four kids today (two checkups, four flu shots).
I might have changed my time zone on the NaNo site to Alaska so when I input my daily numbers at 1:45am, it still counts it for yesterday (since I count "before bed" as the day). I'll change it back and anticipate winning LONG before Nov. 30 anyway…
Yesterday's Stats: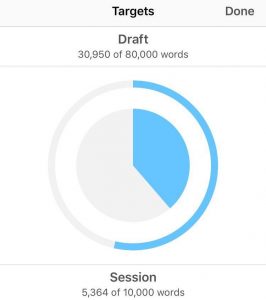 In Concert With the King
Yesterday: 5364
Total: 31025
NaNoWriMo 2017
Yesterday: 5364
Total: 21738
Anticipated Completion Date (50K words): November 14 (but this is now not last night…)