Flash Fiction Friday, Vol. 3
Current Facebook Status: heard the three things you don't want to hear at 5am: the baby gate being opened, whiny 3 year old and 'Mom, where are you? My s'eepin' for weeeeeeeeeeeks'. So much for that last half hour of shut eye :p.
Currently Playing in the Background: NCIS Season 7, Disk 5, Episode 1, Double Identity
It's Flash Fiction Friday!  Today's prompt, once again, is the first sentence [or two sentences in this case].  Jan and I both took a few extra seconds to wrap them up, but that's okay – our game, our rules ;).  And I changed the period of time to four years after we were officially done.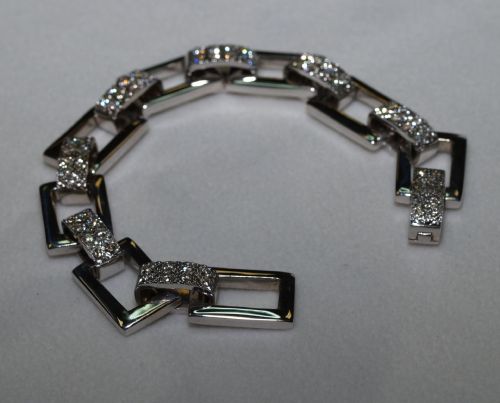 She was speechless. This was the exact same bracelet he'd given her for Christmas last year.  He was so proud of himself that she didn't know what to say.  She didn't want to dampen his spirits at all, but there were no words.
"I did good, didn't I, Jenny?" he asked, his eyes bright.
She nodded.  "You did great, Dan."  She kissed him softly.  "Thank you.  I'll wear it every day."
She would she would wear the bracelet every day.
And every night, she would put it back in the box, hide it in his underwear drawer and he'd give it to her all over again.
Tears filled her eyes as she went to start Christmas dinner.  Four whole years of this.  Four years of it always being Christmas.  Four years of living the day over and over and over.
And over.
Every day she wanted to move on, for him to start remembering.  But he never did.  He never remembered the drive to his mother's house.  He never remembered the tractor trailer whose brakes had gone out and the heroic driver who somehow managed to only clip the rear quarter panel of the car as he careened over the side of the cliff, sparing their lives and probably the lives of several others in cars around them, while sacrificing his own.
Dan would never remember any of that.
She'd already dealt with the daily deluge of questions about his legs and why he was in a wheelchair.  She'd found ways to break it to him gently, but it was always hard.  Always.
And then he'd give her the bracelet.  Because he still loved her.
And because she still loved him, she took it.  And she cried.  And she kissed him.
Then she did it all over again.